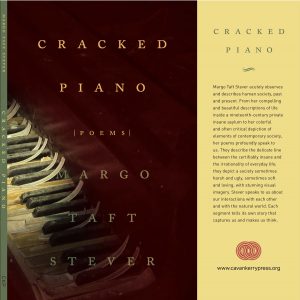 Margo Taft Stever's book, Cracked Piano, was published by CavanKerry Press in April, 2019. Stever acutely observes and describes human society, past and present. From her compelling and beautiful descriptions of life inside a nineteenth-century private insane asylum to her colorful and often critical depiction of elements of contemporary society, her poems profoundly speak to us. They describe the delicate line between the certifiably insane and the irrationality of everyday life; they depict a society sometimes harsh and ugly, sometimes soft and loving, with stunning visual imagery. Stever speaks to us about our interactions with each other and with the natural world. Each segment tells its own story that captures us and makes us think.
---
"The descent beckons, wrote William Carlos Williams, and in her latest collection, Margo Taft Stever hears and heeds a similar call. These poems bring us step by artful step to the "bottomland" of being. It is a place where "fear, fearful fear" flows freely. It is that place in the heart where our direct and indirect encounters with madness, loss, and pain add up and weigh us down. Yet there is a counter-current running throughout Margo Taft Stever's poetry. The taut, unflinching lyricism of this work reminds us of the courage it takes to see our lives as they are. These are poems that affirm the saving grace that we remain ready and eager to sing in our sorrow, even if the accompaniment is only a cracked piano."
Fred Marchant, author of Said Not Said (Graywolf Press)
---
"In the rarified world of the unwell, sense and senses fool both the speaker and writer into a language of mysterious compromise. The persona in "Animal Crackers" recalls eating crackers bought by the mother and devouring them thinks, "Once again, I want to be perfect/ like the elephant./ I want to be thin." In Cracked Piano Stever introduces us to her great grandfather Peter Taft (half-brother of the president) in a Cincinnati asylum and through poems based on his letters, we experience the abject loneliness of a young man who is not even permitted to touch his own child. That he was probably wrongly diagnosed and treated with medicine that we now consider poison is as captivating as it is heart-wrenching. The reader is also guided into the realm of other perceptions where an army chaplain describes the "mushroom cloud" as beautiful (yes, it is beautiful, ironically, if one could live to tell of that vision); where Van Gogh feels his missing ear; and where UPS men carry out funeral rites by delivering ashes. And so Stever reconstructs perception in this insightful and straight-forward collection, Cracked Piano."
Kimiko Hahn, author of Brain Fever , W. W. Norton & Company
---
From the introduction to Cracked Piano, written by Jesse H. Wright, M.D., Ph.D:
"Margo Taft Stever's searing poems in Cracked Piano evoke the sense of desolate aloneness that was experienced by her great-grandfather, Peter R. Taft, when he was institutionalized as a young man at the Cincinnati Sanitarium. As was the custom in the 1870s and later, Peter was put away in an asylum when he acted strangely. With no detailed accounts of his symptoms, it is impossible to make a diagnosis from our vantage point many years later. However, there are some clues that he did not have a major mental disorder.
Prior to his hospitalization, Peter was known as a brilliant man, first in his class at Yale. But when he contracted typhoid fever and was treated with calomel, a compound laced with mercury, he developed terrible headaches—a side effect of mercury poisoning. We don't know if he had other mercury-associated mental symptoms such as lethargy, memory impairment, or hallucinations. However, we do know from his letters (appearing as found poems in this book) from the asylum that he wrote in a clear, well-organized manner with none of the confusion or psychosis of ongoing mercury poisoning or of significant mental illness. Instead, there are aching pleas to be reconnected with his family and the world. One wonders if Peter was shut away because of a mistaken diagnosis and erroneous theories of the medical profession at the time coupled with embarrassment of his socially prominent family. His half-brother, William Howard Taft, went on to become the president of the United States in 1909."
---
Margo Taft Stever's book, Cracked Piano, is available now: (https://cavankerrypress.org/product/cracked-piano/).